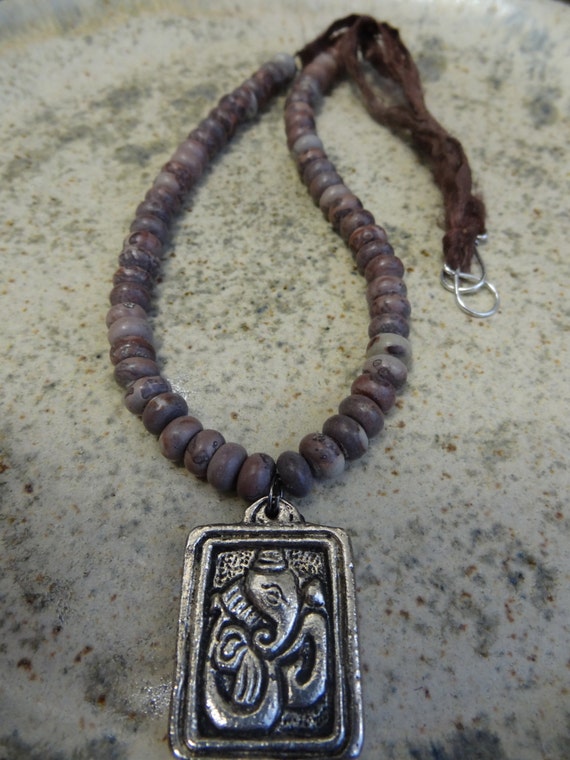 Only 3 more days for the 20% off sale in my Whether Stone Etsy store! Use code SPRING20 for items over $55.
The listing for this striking earthy necklace is here.
Feldspar and Ganesh combine to remove creative blocks, access self awareness and self-love, promote astral travel, assist in finding new and unconventional ways to solve problems and reach goals, and find lost objects. It also helps prevent absorbing other people's negative energy.
This rich and earthy necklace is about 20" long and is made from durable, flexible beading wire, hand formed split rings, silk sari ribbon, and a sterling silver hook clasp. The knots in the sari ribbon are sewn and knotted securely. The pendent has the remover of obstacles and bringer of abundance- Ganesh (Ganesha) - on one side and Sanskrit writing on the other.
Use during meditation to find answers to questions only you know. Wear while you are out and about for protection from the chaos from the masses. Perfect for wearing every day, but especially during Mercury in Retrograde (in 2014: February 6- 28, June 2 - July 7, October 4-25), as Mercury in Retrograde can make our thinking and communication cloudy and brings up issues from the past, which often spurs negative emotions.
Order today! Someone special will wear this and feel aware, loved, and inspired!
If ordered by noon, ships the same business day. If ordered after noon, may ship the same business day, may be the next business day. Pittsburgh, PA and surrounding areas may pick up. Free priority mail shipping in the 48 contiguous United States! Listing is for the necklace only.