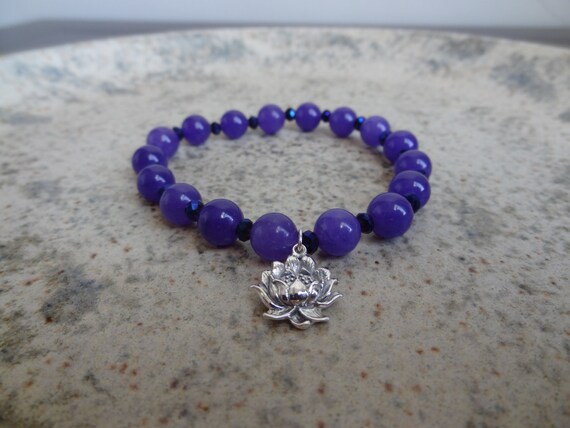 Find the listing for this beautiful and beneficial bracelet by clicking here.
This comfortable bracelet is about 7", so it fits most wrists. The stretch "power cord" (4.5mm) is securely knotted and glued to insure safety. That being said, one should always use care when putting on and removing a stretch bracelet to insure its longevity.
Made with healing intention and charged with Reiki, this bracelet is a powerful ally.
Purple flourite is amazing for meditation and psychic work. It strongly focuses the mind and is associated with the crown chakra, which connects us to the Divine and is responsible for mental processes such as memory, concentration, and attention. It is a highly protective stone and grounds nervous and emotional energy. It allows us to see through illusions and quickens spiritual awakening.
The lotus symbolizes strength and beauty. It grows in murky waters, but its blossoms are pure, which is why the Buddha is pictured sitting on a lotus.
The powerful properties of purple fluorite and the symbolism of the beautiful lotus combine to bring you a potent healing and focusing tool.
Perfect for wearing every day, but especially during Mercury in Retrograde (in 2014: February 6- 28, June 2 - July 7, October 4-25), as Mercury in Retrograde can make our thinking cloudy and brings up issues from the past, which often spurs negative emotions.
Order today! Someone special will wear this in calming, focused awareness.
If ordered by noon, ships the same business day. If ordered after noon, may ship the same business day, may be the next business day. Pittsburgh, PA and surrounding areas may pick up. Free priority mail shipping in the 48 contiguous United States! Listing is for the bracelet only.
Namaste