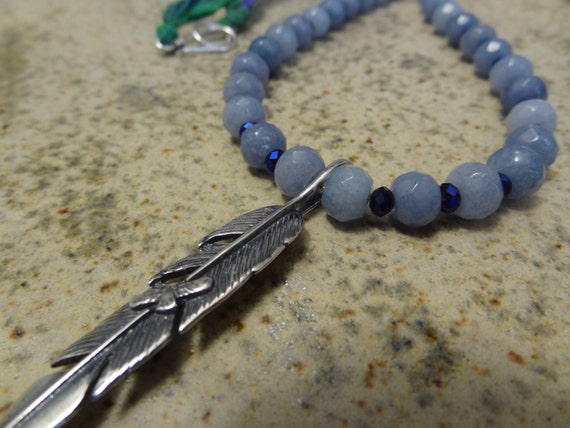 Since the Spring sale is going on, I thought I'd feature some of the healing jewelry in my store. (You can save 20% by using code SPRING20 on items over $55 until March 27th). There is a range of hues and prices. All items are unfused with Reiki and made with healing intention.
The listing for this beautiful necklace is here. Faceted angelite and polished crystal beads combine with silk sari ribbon for a truly original and beautiful design. A sterling silver feather pendent has a small bird on it to add deep symbolism to this intentional piece.
The necklace is about 20" long and is made with durable flexible beading wire, sterling silver closed jump rings, angelite and polished crystal beads, and a sterling silver hook clasp. The silk sari ribbon is sewn and knotted securely. It is made with healing intention and charged with Reiki.
Angelite: connects children with their guardian angels. Amplifies healing with sound; chants. Use with chant/meditation and to connect with child's guardian angel. Connects children with their guardian angel. It regulates the balance of body fluids and helps one gently lose weight. At home and at work, it encourages sensitivity and kindness, deflects cruelty and violence and protects against prejudice and intolerance. Use Angelite to pray to Mother Mary, the female saints and Goddesses and to work with angels. It sends back ill wishes as compassion and helps telepathic communication with loved ones. Associated with the sign of Aquarius, the element of air and the throat and heart chakras.
Feathers symbolize truth, lightness, speed, and gaining knowledge of and access to the celestial realms. If you randomly find white feathers, it is a sign that the Angels are speaking to you. Birds represent the Soul.
Perfect for wearing every day, but especially during Mercury in Retrograde (in 2014: February 6- 28, June 2 - July 7, October 4-25), as Mercury in Retrograde can make our thinking cloudy and brings up issues from the past, which often spurs negative emotions.
Order today! Someone special will wear this and feel comforted and loved.
If ordered by noon, ships the same business day. If ordered after noon, may ship the same business day, may be the next business day. Pittsburgh, PA and surrounding areas may pick up. Free priority mail shipping in the 48 contiguous United States! Listing is for the necklace only.